About EBSCOhost Entitlement API
Starting with the August 2023 release, Open Access Helper supports EBSCOhost Entitlement API. This API connects Open Access Helper with your institution's subscription at EBSCO Information Services.
EBSCO is one of the largest journal aggregators worldwide and their products can be found at virtually every academic institution worldwide. Using their API thus ensures that a large proportion of my users will be able to benefit without the need for additional subscriptions.
EBSCO's commitment to Open APIs made this integration possible.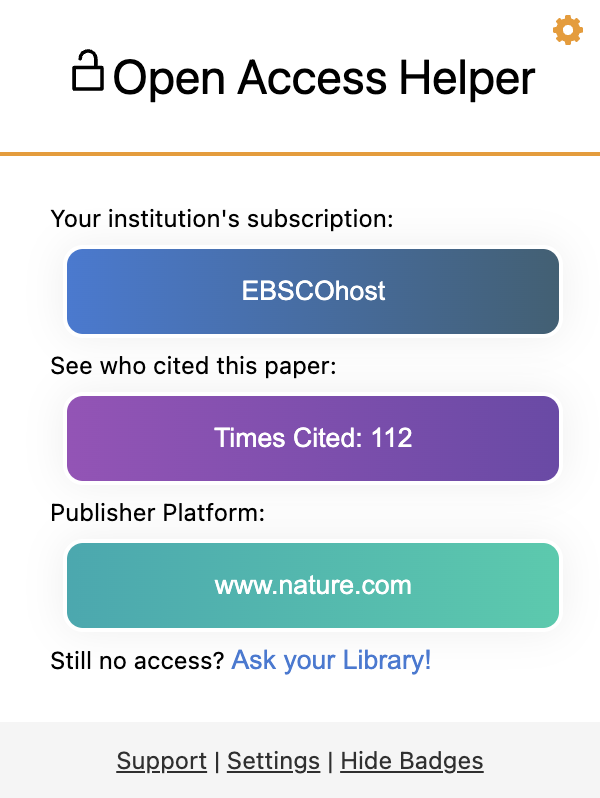 Open Access vs. Subscription Access
True to its name Open Access Helper will prioritze Open Access over subscription access each and every time. It is only when there is no Open Access version on record, that the EBSCOhost Entitlement API response will be used.
The order of precedence, therefore is:
Open Access Version
EBSCOhost Entitlement API (Subscription Access)
Ask Your Library (Link Resolver or Interlibrary Loan form)
EBSCOAdmin settings to consider
Within EBSCOadmin navigate to your main EBSCOhost profile. On the Linking tab, navigate to the SmartLinks+ and ensure to select HLM For SmartLinks+ Holdings. This will ensure that Open Access Helper will not only find your EBSCOhost PDFs, but subscription access based on a large set of holdings you enabled in EBSCO's Holdings & Link Management (HLM) tool.