With Version 2021.2 I am introducing the Open Access Helper popover to the macOS Version. The popover will make available the various services, which you have configured for your Open Access Helper version.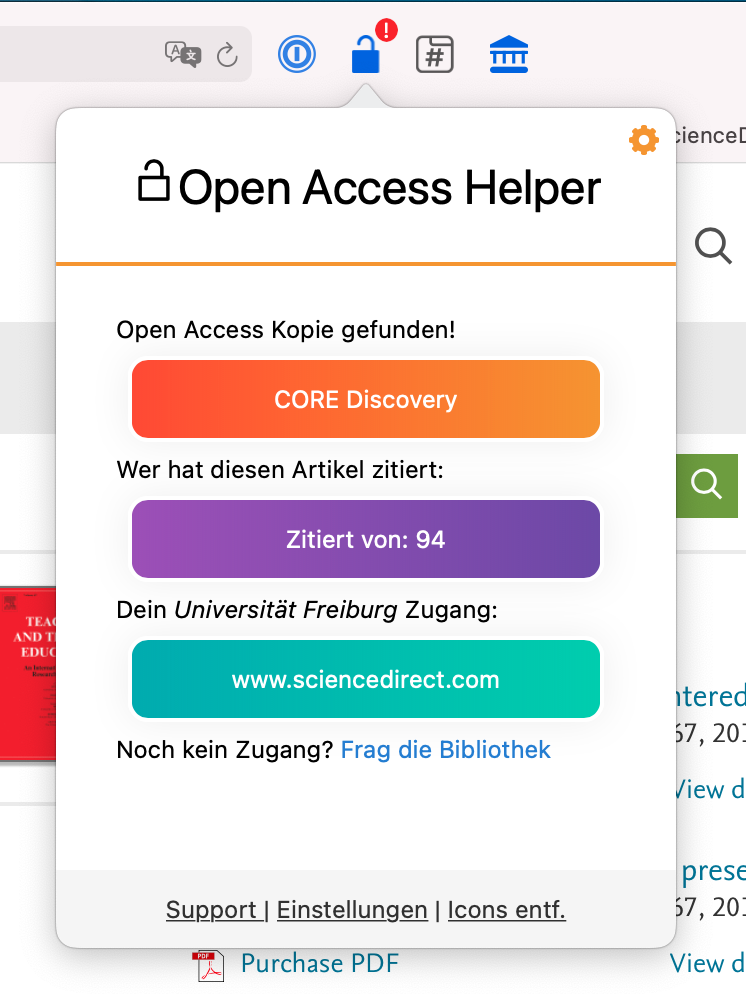 If you have configured an institution that offers both Remote Access (EZProxy) and an OpenURL Resolver / Request Form, this popover will ensure that you have access to these services, even if Open Access Helper has identified an Open Access copy.
If you look at the screenshot on the left, you'll see the Open Access copy (from core.ac.uk in this case) clearly called out, along with the number of citations (from opencitations.net) – those would be the badges you see on the page itself. But you will also notice that there is a button offering to proxy www.sciencedirect.com for you and a link labelled "Frag die Bibliothek" (Ask the Library), which will take you to the Library's Link Resolver.
This version also introduced an enhancement that ensures that the popover correctly indicates, if you are already at the Open Access location. Lastly the button "Ask the Library" is translated for correctly.
This might not sound like a lot, but actually is a major shift to how Open Access Helper for macOS has worked and it brings the Chrome / Firefox version and macOS (Safari) in line with each other. Consistency is a beautiful thing 🙂
For macOS you will also be able to select from more search engines for the context menu. This selection is made from a dropdown list in the containing app. While this is a great enhancement, some of you might be sad to know that I only support one context menu going forward. I implemented this change, as the three context menus was a bit much at times.
I am super pleased about these changes, especially as my 12 year old daughter helped me recognize the need to correctly indicate that you are at Open Access location already and the value of ensuring the Ask the Library button is translated correctly.
Please remember that Open Access Helper is highly configurable, so don't be shy and click the Gear Icon or Settings Link in the popover to make changes and adjust how this tool works!